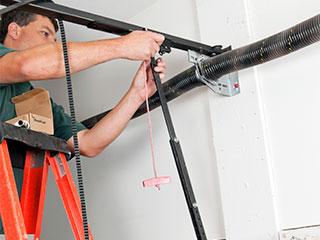 Usually, garage doors are not in any way dangerous, but occasionally their system breaks and it might cause them to become a huge burden. Not only will you and your belongings be in danger, but often there is nowhere to park the car or worse it cannot be taken out of the garage. There could be several reasons for this and that's when emergency services are required. They commonly offer fast arrival at site and give at least a temporary solution to any kind of problem immediately.
Door won't Open
The reasons for not being able to open your door can be plentiful, sometimes as shallow as accidentally putting the door in 'Vacation' mode or having low battery in the remote. However, sometimes there is a deep rooted reason that needs professional fix. It can be a loose wire in the grid that is pretty dangerous to handle or the door might even be frozen in which case it could be hard to make it work again. In the worst cases the springs can be broken, which won't allow the mechanism to lift the door anymore.
Door won't Close
The doors can also get stuck open, which is actually a more common occurrence. The eyes at either side of the door are misaligned or dirty, because there is an invisible beam that prevents the door from closing if broken. It can also be caused by objects covering its path and the door trying to avoid crushing it. The doors are pretty heavy and this safety mechanism is necessary to avoid damage to people as well as valuable objects.
Broken Door after an Accident
Despite the fact that the door is made out of metal and is pretty heavy, damaging and deforming it, is not a hard task at all. If there is any sort of car accident or natural cataclysm that deforms the door or even breaks it, you need immediate professional service further escalation. Garage doors can be as high as 16 feet tall, which just shows their devastating power if not handled properly in such extreme situations.
Always There to Help
If you ever see that your garage door is need of emergency care, don't take chances. Our specialists know how to deal with any situation involving the doors. Give us a call or send us a message immediately. We will arrive as soon as possible and provide the quickest solution. Check our website for further information about the subject and other services and products we offer.