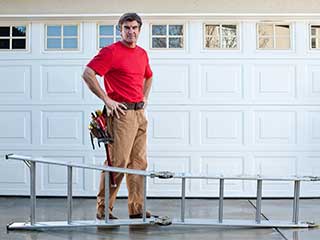 Regular maintenance is essential in order to keep your garage door in good working order. Without careful checkups it's easy for issues with you door to develop into major problems; many common issues can be prevented from occurring with regular professional servicing.
Ongoing Professional Servicing
Your garage door will be in constant use day after day, and while these units are built to last they will begin to wear out over time. Even if the parts themselves are still in great shape, it's vital to ensure that components are kept in proper alignment, fully lubricated, and that any signs of significant wear and tear are caught as early as possible.
Professional Checkup Services
Our fully-trained technicians are highly experienced in dealing with the stress garage doors are put under, and are able to quickly diagnose the underlying issues that cause many common problems. This enables us to provide confident, accurate information on the state of your door, to point out any causes for concern and to address them immediately.
Service Appointments & Procedures
During a garage door maintenance appointment our technicians will examine every component in your door system; the cables, pulleys, rollers and springs, which are responsible for guiding and moving the door itself, must be kept properly adjusted and lubricated. In addition, our technicians will assess the condition of your door's electrical control system, checking your opener, wall-mounted control panel, sensors and remotes for any potential issues.
Extending Your System's Life
Many manufacturers require annual servicing as part of their warranty, which highlights just how important it is for the "health" of your garage door. Ensuring that your system is thoroughly checked on a regular basis is vital for keeping your door in good working order for as long as possible.
Call Us Today
If your door is in need of some well-deserved maintenance, contact our experts at Garage Door Repair Springfield today! We can keep your door in perfect working order.
Looking for more? We also offer:
Garage Door Tune Up Services
Liftmaster Garage Door Openers
Garage Door Extension Spring Replacement
Broken Garage Door Track Repair