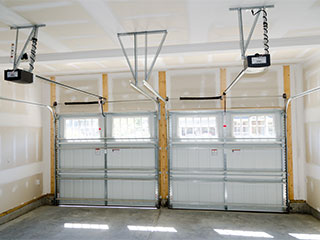 No matter how old your door opener is, it can run into problems over time. While you may easily be able to buy door openers and their parts at local stores or online, unless you know how to handle the wiring, connections, and spring tension of your system, you can jeopardize the correct operation of the opener and put your family at risk from an unsafe unit. Our teams of experts have been trained to efficiently and safely repair these units so that you don't have to worry about doing the work yourself.
Your Opener Isn't Working at All
Door openers are responsible for lifting and lowering incredibly heavy doors, and sometimes wiring problems can prevent them from doing their job. If your opener isn't working at all, then there may be a problem with the electricity and wiring inside the unit. Our experts can quickly determine what the problem is and repair it for you.
The Opener Only Works Sometimes
If your garage door opener seems unpredictable and doesn't seem to work properly all of the time then there may be a problem with the transmission from your remote, or there could be a problem with the motor inside the unit, or the safety sensors. We can troubleshoot and diagnose this problem so that your opener works all of the time once more.
The Door Won't Open Completely
If your door won't open all of the way, there may be an issue with the limit switch in the opener itself. When the limit is set incorrectly, it can prevent the door from operating as it should. Our teams of experts will determine the right limit for your door and make sure that it opens and closes the way that it should.
Call us at Garage Door Repair Springfield to make an appointment with one of our teams in Florida for any type of opener trouble you're experiencing. We have a very broad understanding of all of the things that can go wrong with your unit and will work hard to ensure all repairs are made before we leave your home.
In addition, we offer:
Liftmaster Chain Drive Lubrication
Torsion & Extension Spring Replacement
New Garage Door Installation